News
Keep up-to-date with the latest Cowbell news
SO CREAMY SO GOOD VALENTINE COMPETITION
Posted by

Cowbell

on

12 February 2022
---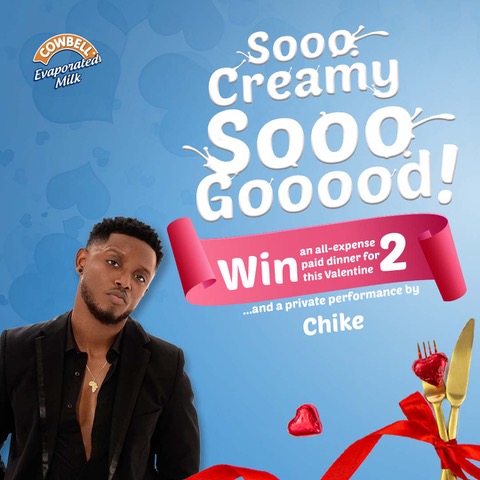 This valentine, we are rewarding 10 of the best breakfast in bed videos with a dinner for two and a star performance from Award-winning music star Chike in the So creamy so good valentine competition! To enter, simply serenade your partner to a pleasant breakfast in bed made with Cowbell Evaporated Milk, share your video on Instagram or Facebook using the hashtag #SoooCreamySoooGooood and tag us @CowbellMilk.  It's that easy! We are looking for the most creative and entertaining entries get to win our prize! 
How To Enter:
To enter, participants are to create a video no longer than one (1) minute that showcases the preparation of a valentine's day breakfast for a lover/partner using Cowbell Evaporated Milk. The video must feature Cowbell Evaporated Milk.
Videos should be uploaded on Facebook or Instagram with the hashtag #SoooCreamySoooGood in the caption and tag @CowbellMilk.
All eligible entries will be judged by an independent internal panel on the following criteria: 30% creativity, 30% originality and 40% use of Cowbell Evaporated Milk.
The contest runs from 12th - 25th February 2022
Only 10 of the most creative entries stand to win. Prizes include an all-expense paid dinner date for 10 couples and a guest performance by music artist CHIKE
To participate, entrants must be a resident of Lagos, Nigeria, and must be following Cowbell Milk on Instagram and Facebook.
No cash alternative to the prizes will be offered. The prizes are not transferable.
The contest ends at 7:00 pm on February 25, 2022.
Other Terms & Conditions:
Promasidor shall not be liable for any injury that may be occasioned by reason of your participation in this contest. This shall include, but not be limited to physical injuries or accident(s) occurring while participating in the contest;
Promasidor is at liberty to use any of your still images, videos, and personal information in its corporate and marketing publications and advertisements (on social media or otherwise) and with respect to any of its brands whether or not you win the contest.
The decision of Promasidor on all matters relating to or in connection with this contest (including the selection of the winners in the event of a tie) will be final and binding on all parties concerned.
The winners will be announced on Cowbell Evaporated Milk social media pages and all further communication will be done through direct messages.
No single fan can win twice in the contest.
READ complete Terms & Conditions HERE
By participating in this contest, we assume that you have read and understood the terms & conditions of the contest.
---